---
Parent Journeys
One of our previous Steering Group Members Nikki Jacques and her family completed a parent journey called "Kadin's story" about living with Autism Spectrum Disorder.
The parent journey was written with collaboration from Poole Council in 2017 when Nikki was part of the Poole Parent Carer Forum.
This parent journey has been re-branded under BCP Council and is available to view on the Family Information Directory (FID) or by clicking the link below: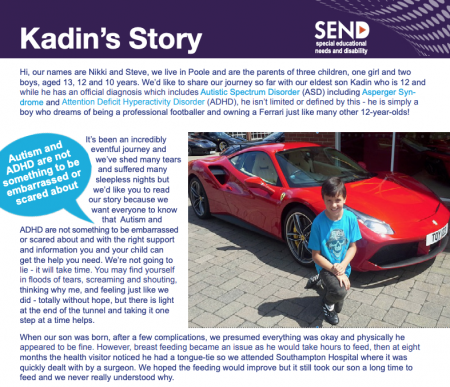 There are a number of other moving parent journeys on FID including Joshua living with Diabetes and Beth having Dyslexia.
(All stories have hyperlinks in light blue-if you click on them they will direct you to more information on that word or phrase)
Please click on the below link to read these parent journeys and more:
(goes to external website)
Parents and carers identify with these stories as it is reassuring to share the highs and lows of other people's experiences which will hopefully offer encouragement in your own situation.
---
Parent Reflections